Home Insurance in Worcester and Uxbridge, MA
Keeping Homeowners Protected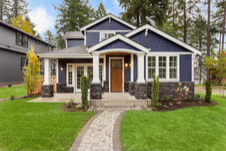 Homeowners face a lot of risks, including fire, theft, vandalism, and injuries. These and other risks can translate into significant costs, and this is one reason why homeowners need protection. Insurance provides this protection and at A & P Insurance Agency Inc. we have a complete home insurance program. We customize solutions through this program so that the needs of individual clients are met and so that we deliver the best policies for the right prices.
Coverages and a Policy Tailored to You
Home insurance in general protects structures and it protects against liabilities. If one needs more protection than home insurance usually provides however, he or she can add coverages to his or her policy. We'll help you find the right coverages so that your policy is the right fit. We work with a large number of carriers in order to give you the best possible selection of insurance options. The options in this selection include:
Property Insurance
Homeowners Liability
Renters Insurance
Condo Insurance
Mobile Home Insurance
Scheduled Property Insurance
Landlords Insurance
In-Home Business Insurance
You can save money and time if you combine your home insurance with your auto insurance. We'll make the combination for you. Just see our home & auto page and/or speak with an agent.
Our Approach and What You Can Expect
We consult with clients so that we create the best solutions. Once these solutions are in place we monitor them regularly and we keep clients informed. We also manage risk and claims, and this helps reduce the chances that clients will need to use their insurance and it supports clients if claims are filed. We're reachable at almost all times, so if clients need to get a hold of us, they can.
Please contact us or give us a call to learn more. You can request a quote if you're ready to get started.
Additional Insurance Information:
We are proud to provide home insurance in Worcester, Uxbridge, Auburn, Shrewsbury, Whitinsville, and Grafton, MA. We also serve other areas in the state.
Related Products: